Review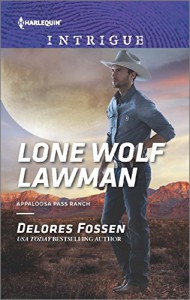 Series: Appaloosa Pass Ranch (Book 1)


A Texas Ranger must protect the daughter of a serial killer from becoming his next victim…
Breaking into the home of the woman who shared his bed three months ago isn't Weston Cade's usual MO. But the Texas Ranger is on a personal vendetta to catch a killer, and Addie Crockett is the man's biological daughter. The beautiful rancher also happens to be carrying Wes's child…
Addie can't remember her birth father, but she'll never forget the lover who took her to bed -- and then disappeared. Now she has to trust Wes with her life. And the life of their unborn baby. As desire reignites, Addie quickly discovers that with this lawman by her side, she just might escape the target on her back.
Good book with lots of action. Addie recently discovered that her biological father is a serial killer, something that has turned her life upside down. Three months earlier, right after she found out, she had a one night stand with a rodeo cowboy and is now pregnant with his baby. Then that same cowboy breaks into her house and she finds out that he's not a cowboy, he's a Texas Ranger. He's determined to catch the killer, and she's his only link.
Wes hadn't planned to sleep with Addie that night, just get to know her a little and find out what she might know about her father. Instead, the immediate attraction that he felt for her took over and things got out of hand. He left, and didn't contact her again because he felt guilty about lying to her and had received letters threatening death if he contacted her. Now he's back because she is in danger, too. He's ready to use her as bait, until he finds out about the baby, then protection is the first thing on his mind.
Wes barely finishes his explanations before the first attack comes. From there on the action is nonstop as the killer focuses on getting rid of Addie. As she hadn't seen her father since she was three years old and had no memory of him, she didn't know why he was after her. But after trying hypnosis to recover something from the past, it becomes obvious he is afraid of what she might remember. No one has ever seen his face, and all they have is DNA to identify him. As Addie, Wes and the others follow various clues to find out who he is, the attacks continue and intensify. There are multiple suspects and each one seems to have an equal chance of being the one. Another attacker shows up with a surprising connection to Addie, and no one is sure exactly what his motives are. There are several twists and turns before the final confrontation comes, including another law enforcement officer with a personal reason to find the killer. The final confrontation was intense, with multiple players. Some questions get answered by the end, but others are left hanging, waiting for the next books in the series.
The relationship between Wes and Addie moved fast because of the baby and the danger. Being with each other constantly gave them the chance to get to know each other and the attraction to grow into love. I liked the way that Wes was sensitive to Addie's inner turmoil and helped her cope with her feelings about it. Wes knew that he wanted to stay involved with Addie and the baby, but his true feelings didn't hit him until the end. I loved the scene in the sheriff's office when he finally accepted the truth. I'm looking forward to seeing more of them in the later books.