Review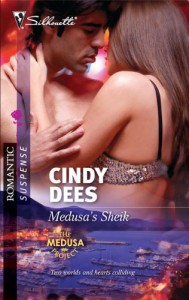 Series: Medusa Project (Book 8)
The danger they can handle. It's the passion that terrifies them both...
Casey Chandler is a Special Forces operative working under cover. Not a harem girl swept off her feet by some prince. But the way her body reacts to Hakim El Aran, it clearly didn't get that memo. To top it off, Medusa's intelligence is certain that El Haran Industries is close to closing a weapons deal, and it's her assignment to stop it. No matter what.
Hakim El Aran lives life in a gilded cage, his family blackmailed by terrorists...until an exotic, mysterious woman saves his life. Cassandra is more than a match for the banker-playboy. Turns out she has to keep him alive only long enough to catch the terrorists. Can he convince her their attraction is worth fighting for?
Very good book with intense action from the beginning and terrific chemistry between Casey and Hake. Casey is a member of the Special Ops group, the Medusas, and is working undercover in London. She is trying to get close to the lawyer for El Haran Industries as she performs as a belly dancer. The company is suspected of supplying weapons to terrorists. On the night she expects to get the information she needs, the lawyer brings Hake to her performance. Hake is suspected of being one of the people who have brokered the deal and she can't pass up the chance to get closer.
Hake has a lot on his mind. Terrorists are blackmailing his family into helping them. He and his father are determined to find a way to stop them that will protect his family. Neither of them trusts any government group to do it safely, so they are trying on their own. Hake has a meeting with his lawyer to discuss options, and also some personal business. He is distracted by the belly dancer with whom he feels and immediate and intense attraction.
Hake is known as quite a playboy. He has never had trouble getting a woman, and he wants Casey. There's something about her that is different than any other woman he has been with. He talks her into dinner with him after the show, with the intent to seduce her, and is flabbergasted when she not only resists, but disappears without a trace after their meal. A week later he's back at the club to see her dance again. While watching her dance he is contacted by one of the terrorists, who doesn't seem happy with the way the deal is progressing.
Casey's team of operatives are also there as back ups for her, and their timing is perfect. Just as she is finishing a dance, the club is bombed and she is there to save Hake from danger. Hake is stunned at the change in her and what is going on around him.
I loved the relationship that developed between Hake and Casey. He has been anti-commitment for so long that the strength of the feelings he has for Casey freak him out. He tries to keep those feelings to a no strings encounter, but his heart keeps picturing something else. He is fascinated by her strength and her abilities, and surprised that she can't see what a beautiful and amazing woman she is. It was fun to see him try to understand her. I really loved seeing him go to one of her teammates for help. Casey has never felt such an intense attraction to a man before, and it has her very confused. She has never been what she calls a "girly girl" and doesn't know what Hake sees in her other than the smoking sex between them. Having to pose as his girlfriend in order to protect him gets her closer to him than she's sometimes comfortable with. She's been burned in previous relationships with men who couldn't handle the work she does and she's reluctant to risk it again. I loved seeing them both let go of their fears and accept that there is a future that is possible between them. There are some terrific scenes of the struggles between them. I also enjoyed the scene of the dinner at the palace and the parts with Hake's parents and one of his sisters.
The suspense of the story was great. The action was steady throughout, from the bombing in London to the final confrontation. I loved the whole Medusa team and the reactions of Hake and his security team to their presence. The final scenes with the terrorists had me holding my breath to see how it was going to turn out.